Are Nordiq Canada events going ahead?
For the Nordiq Canada FIS Regional Cup events, Continental Cup WJR/U23 & Olympic Trials, and the Canadian Ski Championships, follow Nordiq Canada's decision-making process and timelines right here. On the dates indicated (starting at eight weeks out, and then every two weeks), check the charts for status updates.
(Mobile users. Please put your phone in landscrape orientation to view the entire contents of the tables.)
Nordiq Canada supports Local Organizing Committees in their decisions to proceed as planned, modify events, restrict registrations or cancel. In this unprecedented time, they are best able to make decisions in partnership with provincial authorities and local communities.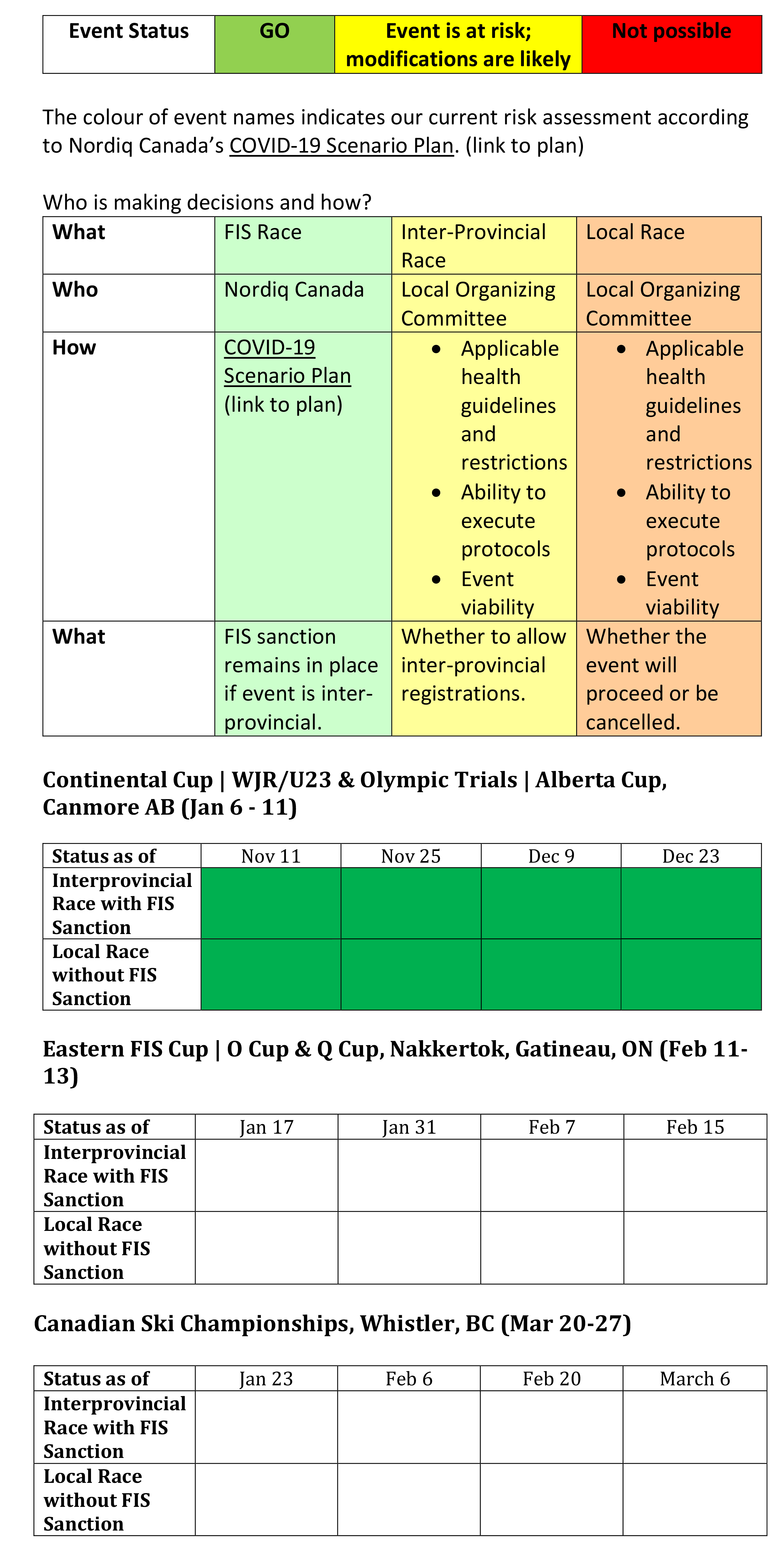 Modifying Race Protocols
Nordiq Canada's Framework for Developing COVID-19 Return to Play Protocols is provided to help you modify operations to align with public health measures in place where you operate. The Framework includes a section specific to competitions.
Zone 4 Timing Cleaning Protocols
Please check Zone4.ca for up-to-date guidance. This guidance was current on October 15, 2020.
For cleaning of GoChips after use, Zone 4 recommends washing them in a solution of 1000ppm-diluted bleach with water for at least one minute and up to 4 hours. Allow the chips to air-dry, or rinse them in clean water and then air-dry. Do not leave bleach-soaked GoChips exposed to direct sunlight. Undiluted bleach will destroy the GoChip label stickers and straps and may affect their casing.
Preparing a 1:50 Household Bleach Solution (approximately 1000ppm):
20 ml (4 teaspoons) household bleach + 1000 ml (4 cups) water
100 ml (7 tablespoons) household bleach + 5000 ml (20 cups) water
Racers can toss their GoChips into a prepared bucket of water with bleach at the finish area.
Other timing equipment such as GoChip activators, Start Wands, Summit Timers and Finish Line equipment should also be disinfected by either a 1000ppm bleach solution spray/wipe, or one of the 'Hard-surface disinfectants and hand sanitizers' recommended by Health Canada.
This timing equipment is usually handled only by timers at an event. Zone4 recommends that event organizers limit the number of timers handling each equipment piece to reduce the amount of contact.
Zone 4 can program in the registration which GoChip belongs to each athlete. When the registration information is imported into the race timing program, the chip number will automatically be assigned again to the racer. You can import the racer's information including GoChip number into as many races as you wish throughout the event. Bib numbers and GoChip numbers don't need to match, so racers can be given a different bib number for the next raceday, but keep the same GoChip. This is easier than having to wash GoChips and wait for them to dry between racedays.
Covid Event Checklist
General
Can you host an event under the current gathering restriction?
Will your indoor facility be open?
If open what are the restriction and can access be limited to certain groups?
If you building access is limited or closed what is the vehicle capacity in your parking lot?
In the event of inclement weather i.e. Rain or freezing temps under the restrictions above can you safely hold the event?
Competition Formats 
What are the gathering restrictions when thinking about mass start.
Are you limited to less than 25 people? – Consider switching to classic
Are your trails wide enough for two athletes to skate side by side?
Can you set at least 3 classic tracks with 2 m spacing?
Could whiskers be used on downhills to set corridors as used on the homestretch to maintain social distancing?
Considerations for interval start
What length of lap is possible?
30 second vs 60 second starts?
<2.5 km = 60 second starts
>2.5 km = 30 second starts
Corridor all corners to maintain social distancing
Operational            
Mandatory face coverings outside of competition
All Team Captains meetings online
Awards ceremonies only if social distancing can be maintained
No day of registration
Health checks. Online form linked on Race Notice and Race website to be handed in to Race Secretary
Available hand sanitizer onsite for common use
Port-A-Potty's available if facility washrooms closed
Clear race schedule and competition plan with local health authority for permission.
Attestation form
Do you have the capacity to track a positive case
Designated Medical Coordinator as on site COVID point person